The DPI will be offering indoor dining by reservation only. We will continue to offer Curbside pick up.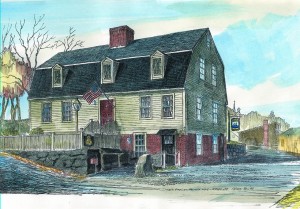 The Captain Daniel Packer Inne was built on the Mystic River over 250 years ago. Square-rigger Captain Daniel Packer completed construction of the building bordering Water Street in 1756. From that time to the late 1900's the property remained in the Packer family and their descendants, The Keelers. The Inne was restored in the 1980's by Richard and Lulu Kiley, and remains in the family today.
Today we invite travelers from near and far to step back in time with us and experience the fine fare and hospitality guests at the Daniel Packer Inne experienced over 200 years ago.
The DPI will be following a new protocol due to Covid 19.
This system is designed to keep our staff and customers safe.
• Please call 860-536-3555 for Pub and Dining Room reservations.
• Based on restricted occupancy, there may be a reasonable time limit connected to your reservation to allow you to enjoy your meal and the staff to sanitize for the next party.
• Guests are required to wear masks and hand sanitize upon entrance. Masks may be removed ONLY when seated. If any guest is unable to comply with this policy, we will be happy to host you when masks are no longer necessary.
• If you are not feeling well, please call and we will be happy to reschedule your reservation.
• If you see a DPI Staff Member not wearing a mask, he or she has a medical condition that excludes them from having to wear a mask. Please be kind.
Access DPI through Dining Room Entrance ONLY!!! If you need assistance, please call 860-536-3555 and someone will help you.
Thank you for your support and patronage.
Private Dining Rooms are available for lunch or dinner up to 25 guests. Call 860-536-3555 for details on rates and availability.

---
View Menus

We are honored that you have chosen to dine with us.

View Menus

Entertainment

Music Every Night

Our Pub is the perfect place to unwind and enjoy an evening with old friends.

See Schedule

Banquets & Events

Private Parties

Learn about hosting your Banquet & Event at DPI

Click Here
---
The restaurant is quite charming and offers a "cozy inn" ambiance.The tables were seated far enough apart to give a bit of privacy for all.